Microneedleng or Dermapen treatment

Collagen Induction Therapy (Microneedling)
a safe, cost–effective treatment for stretch marks, acne scars, and wrinkles.
---
What do wrinkles, stretch marks, and acne scarring have in common? These are all conditions which have been frustrating physicians and patients in their inability to be effectively treated. Now, at last, a new, non–ablative and effective treatment is available.
Not a laser or a deep chemical peel, this exciting option is called Collagen Induction Therapy (CIT). CIT is a simple procedure that requires minimal down time (no more than 3 to 6 days) and significant, measurable, and sustainable results.
How does it work?
A non-surgical procedure, microneedling uses tiny needles to puncture the skin and create "micro injuries." Those small wounds trigger the skin to repair itself by producing new collagen. More collagen, of course, means plumper, smoother, and healthier-looking skin. Highly concentrated serum is used on the area treated during the session. The serum can contain Hyaluronic Acid (HA) which increases the moisture in the skin as well as other ingredients which stimulate the fibroblasts of the skin to reproduce collagen & elastin.
How is the procedure done?
A thin layer of topical serum is applied to the skin, and then appropriate micro-channeling treatment is selected for a particular type of skin. Then the pen is glided across the targeted repair area in a gentle motion.
What is the downtime?
Immediately following the treatment, you will notice a healthy pink glow. Your skincare professional will recommend products to aid your skin's natural healing process. Total healing time depends on the severity of the damaged skin and the depth of the repair process required. On average, patients may be pink for two to four days. Some patients heal completely in 24 hours. Don't be concerned if you have some areas more effected than others. If you are concerned please call the office.
When will I see the results?
Most people notice healthier-looking skin immediately. However, the natural repair process of your own skin continues to progress over the course of several weeks. Dermal collagen remodeling takes place over time, and it will continue to improve for up to six months after your final treatment.
Who is a candidate?
One of the most exciting things about microneedling is that it can be used on all types of skin for a wide range of problems, including acne scars and any area requiring cell regeneration or an intense repair process. If you have any serious health concerns please discuss this prior to making your appointment.
What areas of the body can be treated?
Dermapen (microneedling device) is extremely versatile and can be used on all parts of the body: face, neck, décolleté, arms, hands, legs, abdomen and back. This versatility makes Dermapen especially helpful when addressing acne scars and stretch marks.
How many treatments will I need?
The course of treatment will be determined by your skincare professional based upon your individual treatment goals and the health of your skin. However, most patients receive a series of three treatments spaced about 4 weeks apart. For patients with deep wrinkles, acne scars, stretch marks or advanced photo-aging, the recommendation is to receive three to six sessions at 2 to 4-week intervals.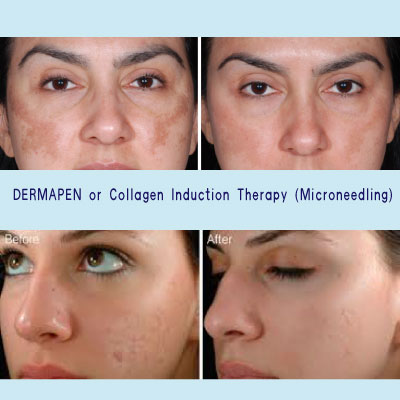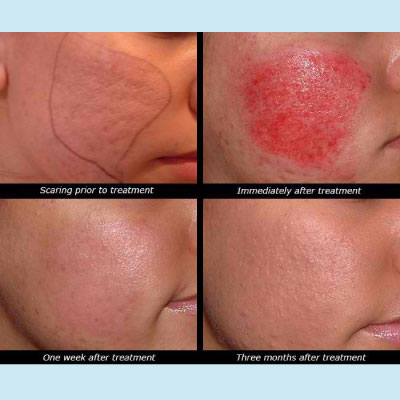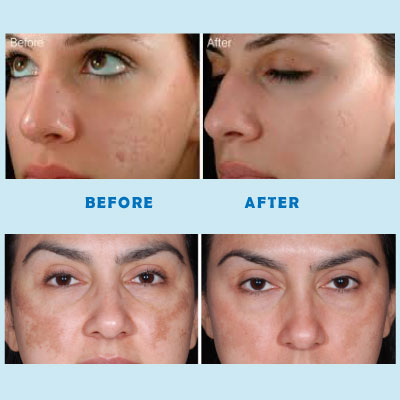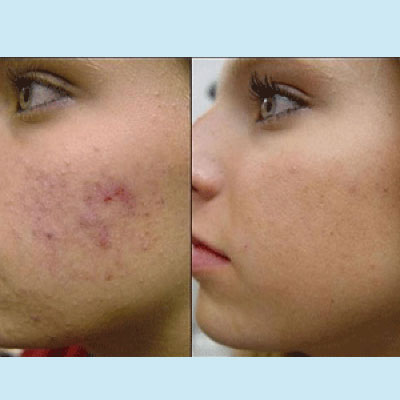 The benefits of Dermapen Treatments are multiple, and the most effective ones are:
skin tightening

minimizes pore size

natural collagen Induction

lifting & rejuvenation

acne scars & wound healing

reduces wrinkles & fine lines

improves stretch marks
Advantages of Collagen Induction Therapy are:
The treatment is not painful

A very short healing period — you may be back in public in five days

The treatment is cost effective

It can be used on thin skin

There is no permanent damage to the skin

It can safely be repeated for better results

It can be used on laser–resurfaced skin

It can be used on all areas of the face, neck, and body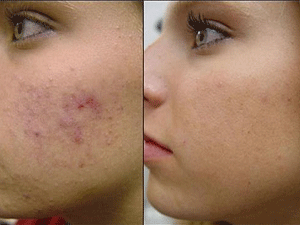 Each treatment costs $450.

A package of 3 treatments costs $ 375 x 3 =$1125 ( $225 saving!)